Suppose you spend a lot of time playing video games. In that case, you know that comfort and convenience are key factors to consider when setting up your gaming station. A suitable gaming desk can make a huge difference in enhancing your overall gaming experience.
It can help you stay organized, prevent clutter, and reduce the risk of physical discomfort. Having a designated space for all of your gaming equipment is essential for organization, productivity, and focus.
When everything is arranged properly, it helps create an environment that allows gamers to focus on the game without distractions. The suitable gaming desk will also allow you to customize and optimize your space, creating an ergonomic setup that ensures maximum comfort during long gaming sessions. Here at DuckBlogs, we will show you the best l-shaped desks on the market.
Product
Image
Pros
Cons
Price
More Information
Walker Edison Ellis Modern L Shape Desk
Spacious L-shaped design

Modern and stylish
Limited color options

Non-adjustable height
$173 (Sale Price)
Mr IRONSTONE L Shaped Desk
Easy assembly

Large monitor stand
Limited storage options

Cable management challenges
$99 (Sale Price)
EUREKA ERGONOMIC L Shaped Gaming Desk
Massive L-shaped desk

Easy to assemble
Pricey

Pretty heavy
$299
The Popularity of L-Shaped Desks Among Gamers
When it comes to choosing the perfect desk for gaming, many different types are available on the market today. However, one particular style has gained immense popularity among gamers: L-shaped desks.
L-shaped desks provide more surface area than traditional rectangular or corner desks. This extra space accommodates multiple monitors and peripherals such as speakers, microphones, and headsets.
Since most modern games require more than one monitor or screen display at once, having enough space becomes critical, making L-shaped desks the go-to option for setting up complex-gaming stations at home or office spaces. Additionally, L-shaped desks are easy to customize since they offer plenty of room for cable management which eliminates clutter alongside better organization; this makes them efficient solutions beyond just gaming purposes too!
Benefits of L-Shaped Gaming Desks
More space for multiple monitors and peripherals
One of the most significant advantages of an L-shaped gaming desk is its ample space for multiple monitors and peripherals. Having a clear view of the battlefield can make all the difference when playing exceptionally competitive games.
With an L-shaped desk, you can place your monitors optimally to ensure no blind spots or awkward angles. Additionally, you will have plenty of room to set up your keyboard, mousepad, headphones, and other gaming accessories without feeling cramped.
Better organization and accessibility of equipment
Another benefit that comes with using an L-shaped gaming desk is better organization and accessibility to your equipment. When things are organized correctly, you'll find that your gaming sessions run smoother.
Keeping everything you need within easy reach on a larger surface area provided by an L-shaped desk ensures that everything is easily accessible when needed. You won't have to worry about bumping into things or struggling to find cables or other essential items during critical moments in gameplay.
Improved ergonomics for long gaming sessions
Regarding long gaming sessions, ergonomics should always be a top priority. Sitting at a desk for hours can lead to muscle strain and fatigue if you are not sitting in the correct position. With an L-shaped gaming desk, you'll have more flexibility in positioning yourself during gameplay.
You can position your chair at different angles while still having access to all your necessary equipment without compromising comfort. Overall, choosing an L-shaped gaming desk could improve your overall experience dramatically by providing more space for multiple monitors and peripherals while also enhancing the organization and accessibility of equipment as well as offering improved ergonomics for extended periods of gameplay comfortability.
Factors to Consider When Choosing an L-Shaped Gaming Desk
Size and Shape to Fit Your Room and Setup
One of the most important factors to consider when choosing an L-shaped gaming desk is the size and shape that will fit your room and setup. You want a desk that only fits appropriately in your room. Measure your room and decide on the space you need for your gaming equipment, such as multiple monitors, keyboard, mouse, speakers, etc.
The shape of the desk is also important. You want a desk that fits well with your gaming setup.
For example, if you have a lot of peripherals or multiple monitors, having one arm of the L-shaped desk longer than the other might work better for you. Additionally, ensure enough space between the two arms of the L-shape so that you can comfortably move between them.
Material and Durability for Long-Term Use
When purchasing an L-shaped gaming desk, it's important to consider its material and durability for long-term use. Look for sturdy and durable materials such as wood or metal frames with high-quality laminate surfaces that can withstand regular wear and tear. Another thing to consider when looking at material is comfort – how comfortable will it be sitting at this desk?
Some people prefer a softer surface like fabric, while others prefer a hard surface like acrylic to write on. It's worth noting that high-end desks can be quite expensive, but investing in one that will last years may save you money in the long run rather than buying cheaper desks every few years.
Cable Management Options
Cable management options should also be considered when selecting an L-shaped gaming desk because they help keep cords organized, giving your workspace a clean, professional appearance; Without cable management, cords can become tangled and unmanageable, affecting performance and creating an unpleasant look. Look for desks with built-in cable management systems such as pre-drilled holes or channels allowing you to route your cables through the desk legs or behind the desktop. Some desks also include a power strip built into the desk for easy access to outlets.
Additional Features such as Cup Holders, Headphone Hooks, etc.
Consider any extra features you want in an L-shaped gaming desk, such as cup holders, headphone hooks, and other accessories. These small extras can add convenience to your gaming experience whilst freeing up valuable desk space. Cup holders will help protect your coffee or drink from spilling over to your equipment while playing video games.
Additionally, headphone hooks keep your headphones within arm's reach when not in use, helping save the workspace and avoiding tangling of wires. Some additional features include RGB lighting on the side of the desk or underneath it to enhance the gaming ambiance or even a tray on one side of the desk to store snacks so that you don't have to get up during gameplay.
Top Picks for L-Shaped Gaming Desks
When it comes to choosing the best l-shaped gaming desk, there are many great options available in the market. After thorough research, we have come up with a list of top picks to help you make an informed decision.
Walker Edison Modern Corner L-Shaped Glass Computer Writing Gaming Gamer Command Center Workstation Desk Home Office, 51 Inch, Black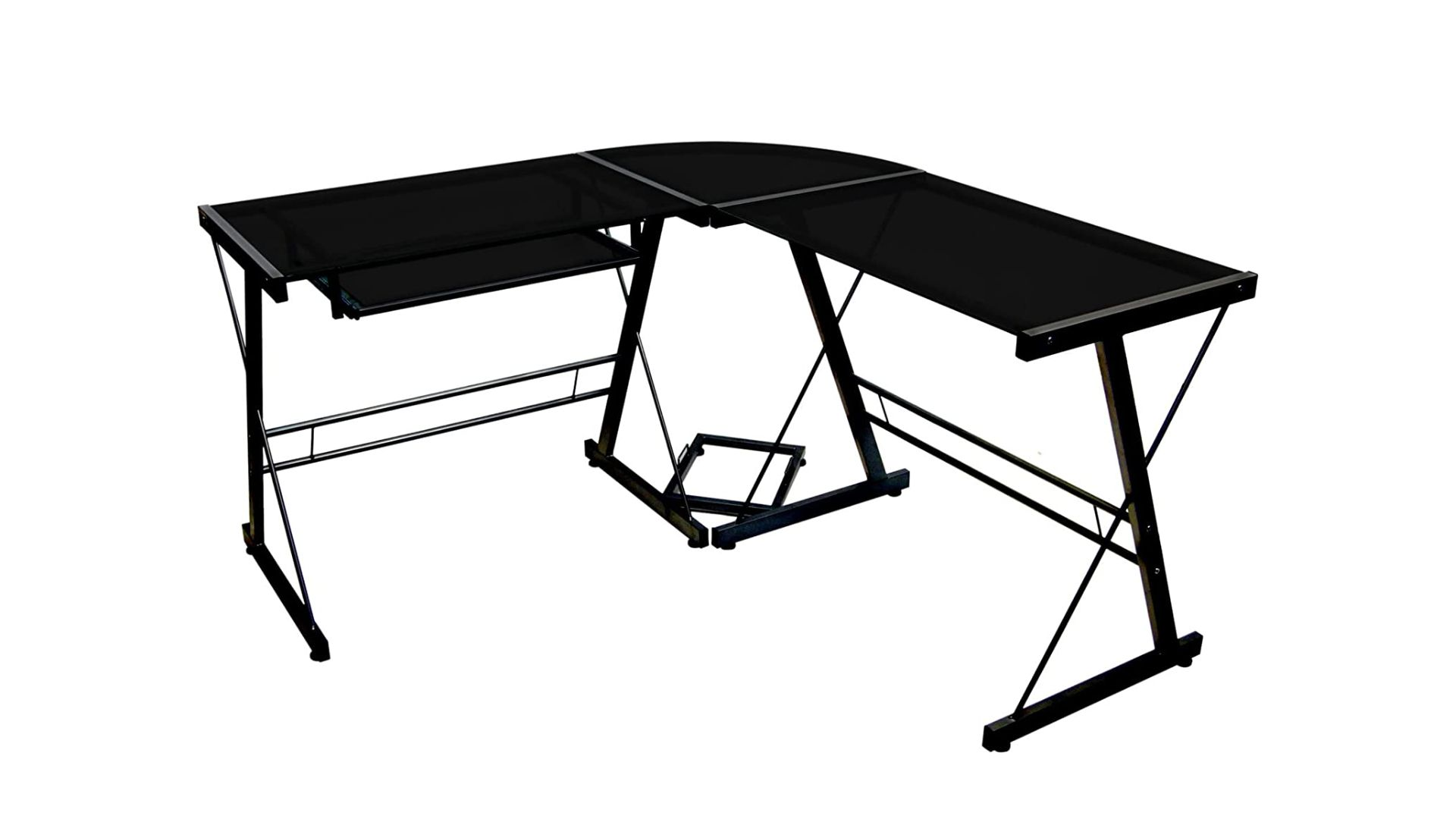 The Walker Edison Modern Corner L Shaped Glass Computer Writing Gaming Gamer Command Center Workstation Desk Home Office is another great option for gamers who want a sleek and stylish look. The desk has a modern black glass design with a keyboard tray that slides out seamlessly when needed.
One of the standout features of this desk is its tempered glass top that provides durability while also giving off an elegant look. The legs are made of steel making it sturdy enough to hold all your equipment without wobbling or shaking.
Overall, this desk offers both style and functionality making it perfect for any gamer looking to upgrade their gaming setup.
Mr IRONSTONE L-Shaped Desk 50.8″ Computer Corner Desk, Home Gaming Desk: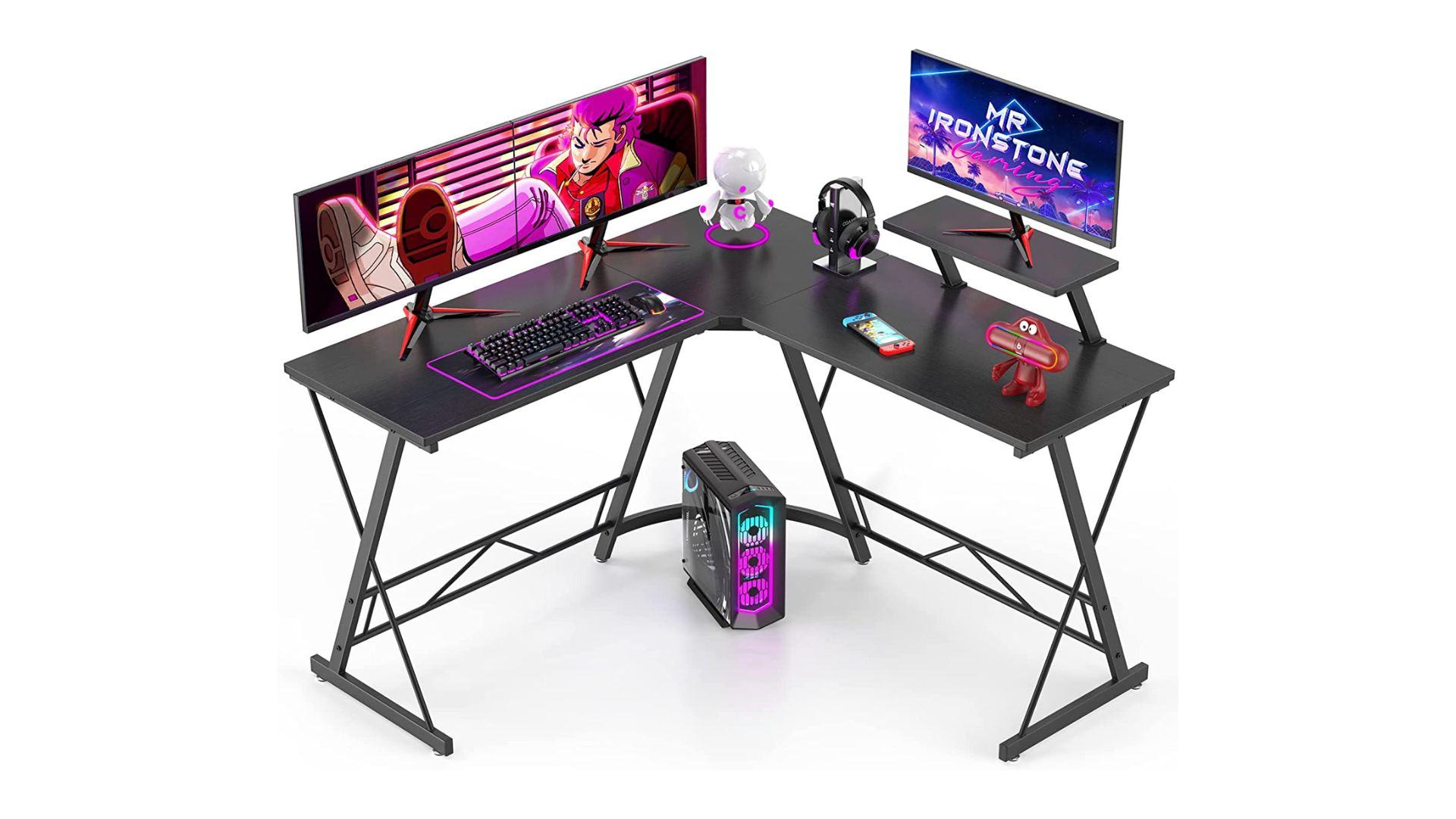 The Mr IRONSTONE L-Shaped Desk is designed for those who need a lot of desk space. With a 50.8″ surface area, this desk offers ample space to accommodate multiple monitors, consoles, and other gaming peripherals.
It also has an adjustable leg that allows you to adjust the height of the desk according to your preferences. This desk is made from high-quality materials that ensure durability and long-term use. The desktop is made from E1 particleboard with a waterproof and scratch-resistant finish, while the legs are made from metal for stability and sturdiness. The Mr IRONSTONE L-Shaped Desk is an excellent choice for gamers who need plenty of space to accommodate all their equipment.
EUREKA ERGONOMIC L60 Corner Gaming Desk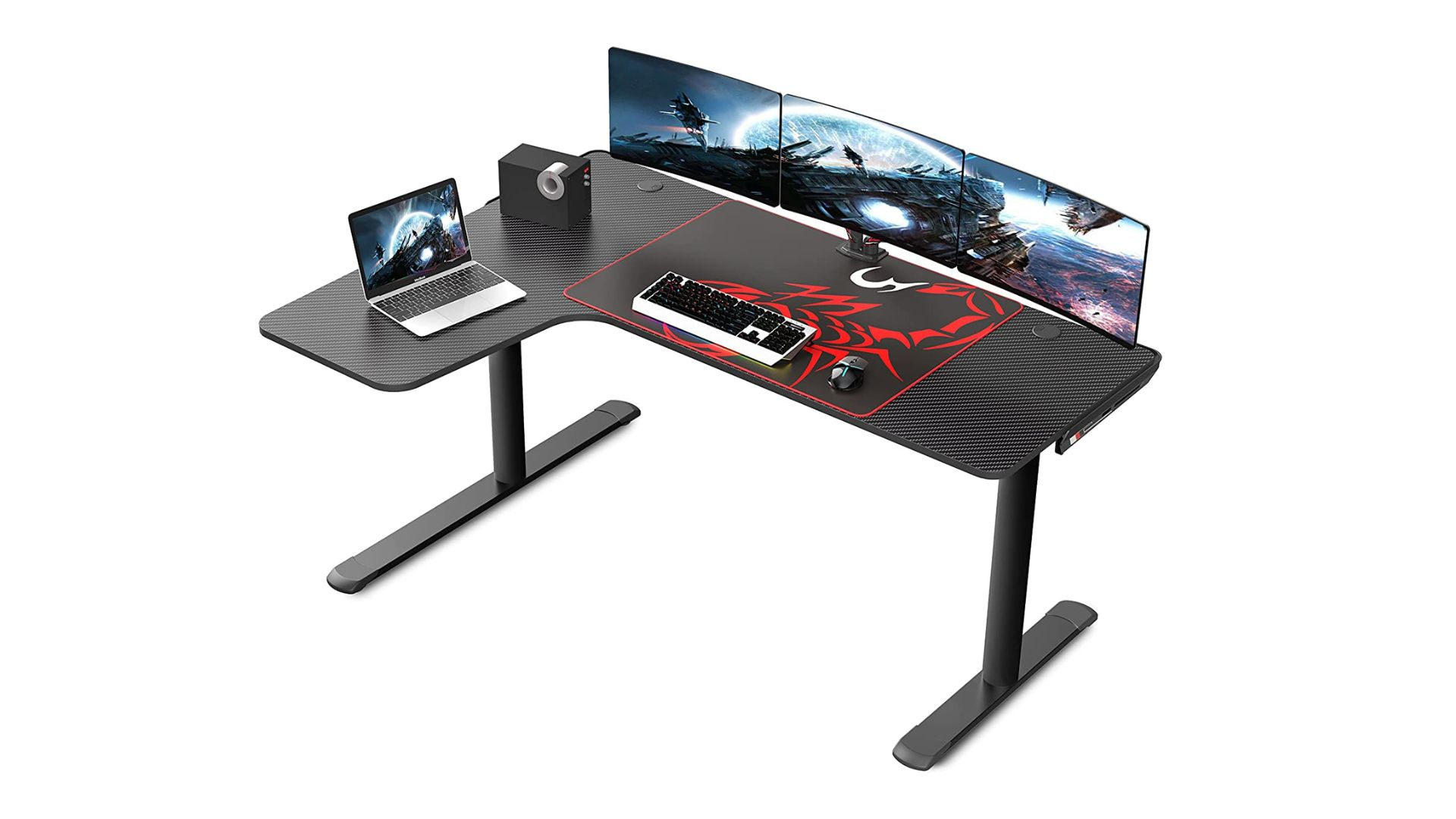 The EUREKA ERGONOMIC L60 Corner Gaming Desk is designed with ergonomics in mind. It has a curved front edge that allows you to sit closer to your monitor without straining your neck or eyes.
The desk also has a built-in cable management system that keeps all cables organized and out of sight. One of the standout features of this desk is its interchangeable panels that allow you to switch between blue or red accents depending on your preference.
This gives you more customization options when it comes to personalizing your gaming setup. Overall, the EUREKA ERGONOMIC L60 Corner Gaming Desk offers both style and functionality making it an excellent choice for any gamer looking for an ergonomic and customizable setup.
Conclusion:
Choosing the right L-shaped gaming desk can make all the difference in your gaming experience. With so many great options available, it's important to consider your specific needs when selecting a desk. Whether you're looking for a sleek design, extra storage space, or practical features like cable management, there's sure to be an L-shaped gaming desk that meets your requirements.
No matter which desk you choose, remember that it's all about creating a comfortable and functional space where you can enjoy hours of uninterrupted gaming fun. So take some time to explore different options and find the perfect L-shaped gaming desk for you!